André-Marie RUF and his team were pioneers of the 1:43 scale modelcar scene. Over 600 models were born from their hands between 1975 and 2005.
This site aims to pay to them the tribute they deserve.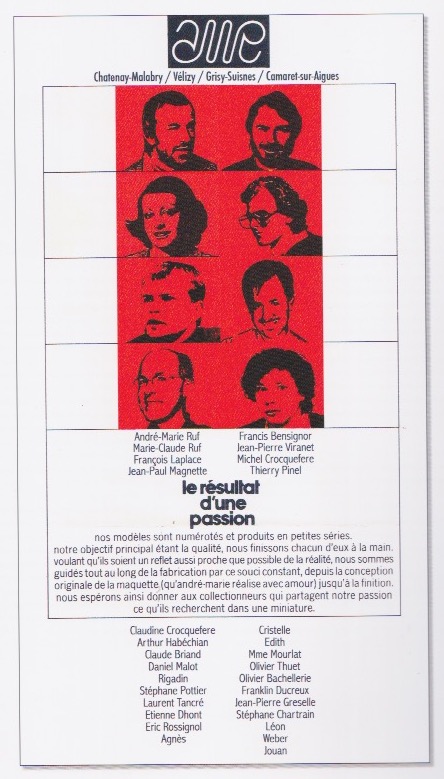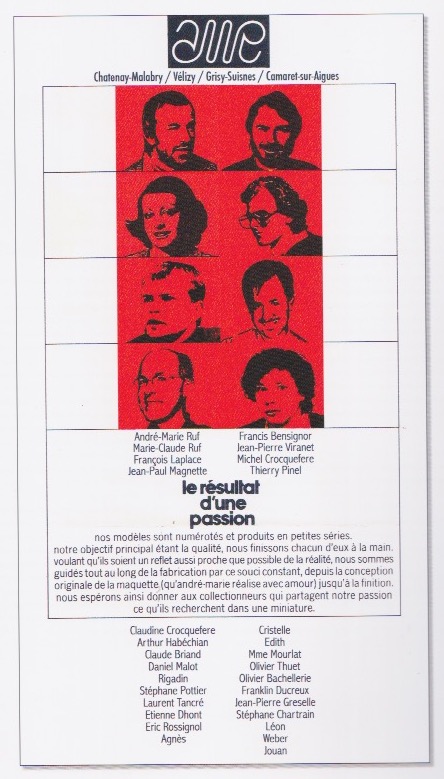 Because music has been their traveling companion. Because Thierry Pinel was one of the members of this team, here is an excerpt of the Post face he wrote for the book « AMR, the result of a passion ». Probably the best sum-up ever written about AMR.
If music is omnipresent in the work (work of art?) of André-Marie RUF, it is also a faithful reflection of it through its evolution. Without Chuck Berry, Buddy Holly, Bo Diddley, no Beatles, no Stones, no Who. Nothing after either. No Velvet, no Ramones. The essential link between blues and rock.
If John Day was the Robert Johnson of model making, André-Marie RUF knew how to draw inspiration from it and, like the guitar-heroes who allowed generations of spotty kids to envision themselves with a six-string around their neck , he must be considered a hero of the soldering iron and rape.
I was in the ranks of those who followed in his footsteps hoping to go on stage. (…) I went up there, and not in the first part, in his band. (…) The success, the tours, the fashions, the egos, the money, the Clash.
To remain large, large groups must separate. It is the rule. The world of model making is no exception, it is as unforgiving as show-business.
(…)
The story is also unforgiving, it is often only the story of the man who saw the man who saw the bear. (…) I saw the bear and I was not afraid!
Frankly ? Yes. A bit, at the beginning … Rock stars are what they are, egocentric divas and great guys, alternately, simultaneously.
Contradictory, but flayed, always. Rock and roll Animal.

Thierry Pinel, 07.16.2011